Relationship Capital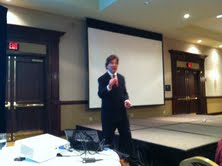 The value of the relationships you have and are developing is relationship capital.  This is the single biggest reason for my career moving forward again in 2009 after being stalled for a number of years. It was late summer 2009 and I had successfully launched an on line membership site using social media marketing. However, financial prosperity was not developing as I preferred. I reflected on my situation at that point in comparison to those periods in my career when I was "on my game" and doing very well financially. I identified personal contact with highly successful people as being the difference. In 2009 I was connected with a large group of people online. However, my personal connections were largely dormant. I made a commitment to  reestablish a vibrant network with successful people….I visualized that already being in place. Several weeks later, I received a phone call from a person I didn't know. However, I spent time with him and that one call led to an acceleration of my business and real estate coaching career. Most importantly, it led to a rapid acceleration of my network with successful people.
The door was opened and I worked it very hard and still do today. The relationship capital continues to get stronger because I focus on bringing as much or more value to the relationship as I gain from it. In the Universe it is called the Law of Reciprocity.  You may be familiar with "what goes around, comes around" or what you send out comes back to you. Personally adding value to another is my greatest reward. Just yesterday I received an email thanking me for the work we did in 2011. The person said he would have most likely lost his business had it not been for our relationship and our coaching.
This is so important I am modifying one of the chapters in The Book on Business Profits which is in development. In this message I will share with you several key steps you can take to build your relationship capital in a major way even if you are in a situation with very limited financial resources.  Relationship capital extends to our personal lives as well and that is a subset for a future article.
Leverage
Leverage is a term that is not well understood in the business sense. I summary, leverage is where you focus on where your talents are best used and work with others who have complementary skills for work that is  needed in your business. For example, in the  real estate investment business there are just several key categories of activity including: finding the deals, renovating the properties and sourcing the funding. Some people are very skilled with building and repairing.  I can assure you I am not one of those people so I find those with that skill set.  One important point if you are responsible for your business…you cannot leverage the responsibility for being the leader. If you don't want to be a leader then you probably are best served working on someone else's team or for a company. There is nothing wrong with being a team member or working for a company. I held a number of those positions and those experiences contributed to my growth and development.
Five Steps To Developing Relationship Capital Right Now Even If You Are Not Connected With Anyone Successful and Have Very Limited Financial Resources
1. Network Marketing or MLM – I am a major advocate of quality companies in this industry because of the network you can build and the training you will receive for very little money. The one principle that took me many years to learn was to market those products that many people are already buying and using. With that criteria in mind there are primarily two businesses I suggest everyone take a close look at because you will benefit greatly from using the products and they are easy to suggest to others.  Both of these businesses have greatly enhanced the incentives to getting started right now.  They are:
a. Send Out Cards – I love this as I can send cards more economically sitting in front of my computer than I can going to the store, picking out a card, writing a note, addressing it and mailing it.  You can get started in this business as a business owner for about $300. Imagine that for $300 you can be in business and if you don't want to be in that business, people will love getting cards from you. Sending cards is the number one tool in my view for building relationship capital following a personal meeting. Click Here Now for More Information
b. Organo Gold – Amazing health benefits just by drinking what most people are already drinking…coffee , tea, hot chocolate. This article will be on line for a long time. Right now and for the next 60 days I know you can join this business by acquiring a special gold pak for $500. That is how I joined the company nearly a year ago. Gold members are positioned for maximum compensation. Normally a gold pak is about $1,200 which is still a deal but $500 is better. Click Here For More Information
c. Coaching – joining a coaching program is much more than having an expert help you. The right coach will help you build relationship capital. You will be hiring an expert which takes funds. Personally I have my next level of coaching expertise identified and will hire that person as soon as possible.
d. Leverage your time and skills with people who have funds to put to work. For example I would love an energetic person to introduce Organo Gold to every independent coffee shop in my market and help charitable organizations understand how this product line can help them raise sizable funds. I am prepared to sponsor them, and help them with some expenses like the cost of samples and gas for their car.  In the real estate business, we are always looking for people who want to learn real estate investing and want to become an apprentice with us.  They need to be able to fund their personal  expenses for 4-6 months.  There are other ways to leverage once you start thinking in terms of what you can bring to the table in terms of time and skills and combine that with a deal partner interested in putting their money to work. Note if you are in the situation of limited funding it will require  alot of work to find a person who will work with you and support your plan.
e. Network business events, training events, charitable events, political fund raisers, social events and more.
Summary – Relationship Capital is key to your success, Leverage is key to you optimizing productivity and performance.
Contact me now.
International Business Development Consulting
Real Estate Investment Consulting
Executive Coach
Connect With Steve On:
727-587-7871
Steve Pohlit is a CPA,MBA and has been the CFO of several major domestic and international companies. Today Steve is an expert business consultant focused on helping companies improve their business performance including growing profits, revenues and customers. For a FREE 6 week mini course where you will receive 10 easy to implement action steps guaranteed to increase business revenue and profits by at least 30% in the next 90 days, please visitwww.StevePohlit.com  All articles published by Steve unless specifically restricted may be freely published with this resource information.