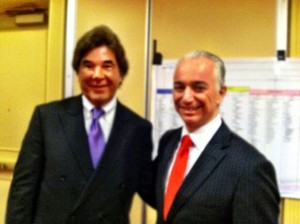 My good friend Roger and Meir Ezra's business partner emailed me today with the message there are three seats left for Meir's event in Tampa April 9th and 10th.
The Top 3 Benefits For You by Attending
1. Meir Ezra has built 24 companies in 26 countries and one of them he grew within three years to generate $100,000,000 in revenue. He will teach proven strategies to build your company into a Perfect Business Model
2. Roger, Meir's partner, is a very well-connected and influential leader. As an example he has over 23 million people in his personal LinkedIn network. He personally knows many super achievers from billionaires to Olympic gold medalists to personal and business thought-leading transformational experts. You will be networking with an amazing group of progressive people at this event.
3. This is listed third and that does not diminish the importance of the additional principles you will learn. In fact, this may be the most valuable part of the entire event. During this event you will Learn how to overcome your limitations and experience more joy, happiness and freedom. I do not have the words that express to you how much I have advanced since learning form Meir.
Register now for this is the two-day seminar. Click here www.GuaranteedProsperityLLC.com now. But Wait! don't go empty handed – take this special Promo code with you "MEIRAPR14" so that you can attend as my special guest.
To your success and transformation,
International Business Turnaround and Development Consulting
Real Estate Investment Consulting
Executive Coach