Building Real Estate Business Profits Fast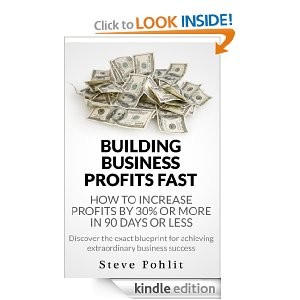 Adapted from the book Building Business Profits Fast by Steve Pohlit and published in 2013 on Amazon, updated here based on new experiences.
My background briefly: Professional  Speaker,  CPA (inactive now) , MBA, Arthur Andersen (world's largest public accounting, tax and consulting firm before being destroyed by Enron) , Financial Executive of three very large companies, Board Member, worked with very successful very well known business people and then I went into the entrepreneurial niche where I bought ans sold companies, started new companies and more. I have made a lot of money and lost a lot more. Making a lot of money is better. Losing resulted in me learning the most.  With that it is better to follow my advice rather than experiencing those negatives yourself.
From my own experiences including being mentored by some amazing people,  coaching hundreds of people and seeing the results, I feel I am well qualified to present these action steps.  I honor your time and attention and my intent is to deliver extraordinary value.
Starting With An End Game Component In Mind
The end is where you have raised the funds and you close a deal. If it is a flip I am talking about closing on the sales side where your profit is made or not. If it is  a buy and hold profit begins when the cash flow starts and meets your projections. If it is  wholesaling then it is when you are paid for the assignment of the contract.
I recently did a video on how to do deals when you have no money. Actually the principles apply whether you have money or not. In most cases I am an advocate of partnering for money. Most deals get done with a combination of debt and equity. A seller financing deal is where the seller is the bank. Buy fix and flips, buy and hold, are usually always a combination of debt and equity or loans and cash. If you are wholesaling in any meaningful way you are likely to have developed a team to support you and they typically get paid when you make money.
To make any of this work you have to demonstrate your plan showing  what is in it for the sources of money is worthwhile and secure. The sources of money have to have the confidence in your plan.  For your plan to be worthwhile you need to have a strategy for what you are doing. You can network without a strategy and plan however the most you can do is build your list of possible lenders and equity partners for your deals.
I network all the time and have coached many people on how to do this effectively when you don't have a specific deal to pitch.  That is outside the scope of this article. Contact me if you want more information.
Back To The Beginning Step 1 
If you want to Build Real Estate Business Profits Fast you decide to do that  then make a commitment do follow what it takes to make that happen. This article gives you a lot of what is required to make that happen.
Step 1 Define the goal  – Part of Deciding and Commiting is to be clear on a measurable outcome
Go deep inside and ask yourself what is the goal? In my experience everyone has the same goal but most do not know what it is. The goal is the same for everyone, but the details of what that picture looks like is different.
My friend Gary King author of The Happiness Formula also found on Amazon,  has interviewed thousands of people at events worldwide and asked them why are you here? The answer in 100% of the cases was "to be more successful" He then asked what  is  success? The answer always was to have more money?
Today  I am going to share with you the formula for making money fast in real estate. First it is important to let the following sink in: "more money is not success".  Being happy is success. Having more money so you can make a difference with something you are passionate about is in my view a major component of being happy.
More friends, more recognition, more of anything is not success. Being happy is success. I have never found that being selfish brings happiness.  I have found that  part of being happy is being healthy – having the energy to make a difference in whatever you decided to do.
Step 2 Your Why
I thought about making this Step 1 and realized most people can relate to specific goal setting and then begin to stumble when asked Why?
How to be clear on your Why.
Decide what you want to experience. Everyone wants to have experiences . Maybe your why is to create an account to fund your child's education. Maybe you want to create assets that cash flow month after month that pays for the lifestyle you want and helps others. Maybe you want to build a big business that makes a huge footprint in something that you are passionate about. For me I have a very big why and it drives me every day.
You  have to have a why and then your  income goal needs to line up with  your why. Key point if you think having the money, the car the house, the travel – whatever will make you happy I have a big surprise for you – learn to be happy now and you will then be happy later with those things. If you do not learn to be happy now, you will wake up with more stuff and not be happy.
Step 3 – Mindset and Skills
Once You Decide  and Develop the Picture  of The Life You are Intending to Experience (your ideal scene) that fuels your happiness then You devote time to self development work. Self development includes acquiring specialized knowledge and includes acquiring wisdom.
All of us are well served by specialized knowledge. In real estate we have Larry Harbolt, Pete Fortunato, Bill Cook and many others in who teach us specialized real estate knowledge. Then there are the authors and speakers that are popular nationally. Grant Cardone is a great teacher of sales and closing deals.  Eric Worre, Randy Gage and others are great teachers on building teams. There are numerous teachers of principles that help us become a better person. Jim Rohn, Robin Sharma, Wayne Dyer, Mike Dooley, Neale Donald Walsch, Gary King and many others are great teachers..
Get Podcasts on your phone, subscribe to YouTube videos. There are many resources to help you and the majority of those very valuable resources are free. Select what resonates with you. Select those that address what is blocking you. You must invest in yourself every day. Invest in yourself and take directed action otherwise you will become stuck. Journal your ideas, progress and set backs. 
Be aware of getting stuck. In Chapter 4 of my book I address what is the major block for all of us – fear.  If you  look at where you have allowed fear to creep in  Go back to your resources that you use for self improvement area of self development. The better you become the more confidence you have. Invest in becoming better. If you really are stuck because of fear, contact me and  I have other suggested resources to help you. Recomended resources are free unless you want to be coached.
I go to a lot of networking events. The more I connect with people the better I am at communicating what it is that I am developing. Recently I started using Facebook Live to get out more messages because people do not read like they used to. So I take those feeds and upload them to YouTube.  I populate them to  other social media sites. That is leverage of my time. It is also me practicing being in front of people. I will be much better at that 6 months from now than I am today.
When I was on stage in front of hundreds of people all the time and on the radio interviewing several well known celebrities every month, I got good at it.  I have not done that for about 4 years. I am dusting off the cob webs now.
Subscribe to my YouTube Channel http://youtube.com/stevepohlit
Connect with me on social media
http://facebook.com/buildprofits
http://linkedin.com/in/stevepohlit
http://twitter.com/stevepohlit
http://instagram.com/stevepohlit
http://pinterest.com/stevepohlit
http://tumblr.com/blog/stevepohlit
On Snapchat  stevepohlit
Last Wednesday I went to an event which was the launching of the New Thought Channel on Internet TV. I listened to a lady who described herself as an entrepreneur and in the 5 minutes she had described how years ago she put the box CSO at the top of her organizational chart.
Every morning she has a structured meeting with her CSO  She details the steps for this meeting in her book The Path To Wealth: Seven Spiritual Steps For Financial Abundance. I went to Amazon and downloaded the Kindle version – I think it was $9.95 and have been having my own meeting now every morning and I really feel good about it. What do you think  CSO stand for? Include your answer and any questions in the comment section below.
Step 4 What is it that you are passionate about doing?
In the real estate niche there are many different transactions. Realtors, wholesalers, flippers, buy and hold, commercial multi-family, etc I started 3 buy fix and flips in January of 2015 I had a plan to do about that many each month. I stopped and 3 and that is all I did.
I have done about 10 flips total in my real estate career and each one was stressful.  I stopped. I connected with some people and I now know the deep discount single family home model and really like it. It is small business for me and my goal is to make it a lot bigger.
I got a call in October last year to look at another business and it shifted my focus almost immediately as I realized what the system is doing for people's health .
I was at monthly REIA meeting last year and learned real estate niche that is not widely known. I am quietly looking at developing that model.  While networking for real estate deal funding I met a guy who started helping me with my plan to raise larger amounts of money.  Outside of that goal,  he connected some dots and we now are offering an opportunity for residual income long term secured by real estate with very exciting returns.
I have learned how to be smarter about what I am doing in areas I am passionate about. Higher returns, money well secured and  very low risk is how I define smarter.
What is it that you are passionate about?  Start with that now compare that life, your ideal scene,  to where you are today. If you are making $3,000 a month now and you want $20,000 a month or $1 million a month you need to define how you are going to build that.  It is not going to happen if you have not defined it.  It is also not going to happen if you have not defined it by month, by week and depending on your business, by day. If you are a wholesaler and you average $3,000 a deal and you want to make $15,000  a month. How many  deals do you have to do?  5  How many a week ?  About 1
Step 5 Once you define your financial targets in increments that make sense then you need an action plan that will hit those targets.  Larrry Harbolt recently posted on Facebook the reminder that we have to make offers, intelligent offers. Bill Cook has been encouraging people to door knock and make offers.
All of that advice and more is about  taking action. What action is required? It  depends on the deal. Is it a buy and hold, are you looking to fix and flip, are you wholesaling at deal. One wholesaler I know fairly well has his stats on how many letters he needs to mail each month to get the number of deals he wants. It is a very accurate statistic and he works that system all the time. He is successful with it.
I promote the opportunity of owning  income producing houses. Do you have to make an offer? No you just have to flow the purchase price into escrow until we get the deed and note transferred to the name you want. That is easy and yields 15% net.  Do you want even higher returns? I have two other business models that will yield excellent returns. One is an opportunity to build your own multi-million business fairly quickly. The other is an income producing opportunity secured by real estate  Are you interested in knowing more?  Contact me – all my contact information is at the end of this email.The point is you got to have an action plan designed to hit your income targets.
Step 6  Measure the actual results vs plan. 
If you want to do 3 flips that average $25,000 net to your bank in 12 months then you need to have deals the  pipeline and I would recommend wholesaling the ones that you find that a good but where you do not have the capacity to do yourself. If you want to do 6 or more flips, you will need a team and systems to make that work. Whatever you choose to do there is a plan of action that needs to be implemented and actual results for each step in the plan need to be compared to plan
This is the basis for the Gold Formula that is an entire chapter in my book. I called it The Gold Formula because once you have a plan and you measure the actual results vs. the plan you get a variance. If the variance is positive great keep doing what you are doing. If you put up 25 bandit signs and you get no leads that convert into deals you must change something,  Maybe you should  be door knocking, working more closely with wholesalers, sending letters to houses in probate, bidding on the bank owned property list – if something isn't working you got to change what you are doing. Back to the sign example – maybe it is your message. Are you testing messages on your signs?
This is a birds eye view of the process with enough detail to help you move forward builind a business and not just doing transactions.
I Can See Clearly Now! That is the title of a book by the late Wayne Dyer who is one of my favorite mentors. What I am seeing clearly now is the path to a ten million dollar business and more materializing in the next 18-24 months. Some may not desire to have a business of that size, some may want an even larger business.  Regardless I can show you how this is practical and possible regardless of your background. Contact me for more information.
Contact Information
Steve Pohlit
Text 727-224-4743
Email stevepohlit@gmail.com