"Nothing ever happens until a customer says I'll take it" I will never forget the shareholders meeting at The Limited when I heard Les Wexner make that statement. I was a senior member of the team providing audit, tax and consulting services to The Limited. I will be forever grateful for the lessons I leaned from working with Les and his team.
Les started with one store in Columbus, Ohio. He has always in my experience had a vision of where he was going. He took his vision and was inspired to ideas. Many of those ideas were implemented after many others were tested and failed the test. Les and his company took action on ideas.
Do You Want More Money For You and Your Family?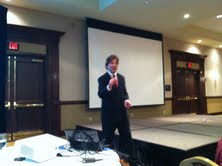 The principle of taking action on ideas linked to your vision of achieving goals is timeless. Neale Donald Walsh has written "pay attention to the messages you are intended to receive" This is about the messages I received and took action on and why. For clarity I am not writing my history of how I got to this point. There is alot of history. The point is I got this message on the topic of multiple streams of income and residual income. That message is to be excited about what you are presenting and talking  to people about  and especially focused on what conversations they are already having in their head.
I have two primary businesses where I focus most of my time. Those businesses started and grow by continually defining my goals, visualizing how they develop, getting ideas on growth and expansion and taking action. This article is about using the same process in connection with my interest in selecting other business opportunities supporting my goal and vision of a vibrant residual income flow. I am sharing this with you as it may save you a bunch of time, money and trouble. It took me quite some time to appreciate what I am going to share with you.
Steve's Business Opportunity Selection Criteria
1. Capitalize on products that people are already using in mass quantities with an alternative offering a unique selling proposition. So when I discovered two companies whose products I was already using I was immediately drawn to those opportunities. They are easy for me to talk about as I am excited to personally use the products of those companies….love em.
2. Re-read Number 1
The Exception …Or Is It?
A very brief post on Facebook by a FB friend something along the lines of retire in 24 months along with a comment by a lady who said she read it and already "was in" caught my attention not because of the product but because of the marketing. Then I watched a couple of brief videos and felt the company One24 had gotten it right…kinda like Apple getting it right with the iPhone then the iPad. One24 is simple, it has an amazing "hook" which is "Check Out My Website and If You Like It, I Will Add You To My Waiting List" …that is their 30 second training and it works.
The following is about the entire email I sent out to a list and to several of my groups on Facebook….Check Out My New Website and If You Like It I Will Add You To My Waiting List. I sent that out on a Sunday morning (very low traffic time) and within 24 hours I had 20 people on my waiting list and in the next 24 hours maxed out the number of people I could add at that time to the business.
Now your turn…Check Out The Video At My New Website and If You Like It I Will Add You To My Waiting List..Plus There Is Very Nice Sweepstakes The Company Is Running For Those On The Waiting List. Click Here Now!!
International Business Development Consulting
Real Estate Investment Consulting
Executive Coach
Connect With Steve On:
727-587-7871
Steve Pohlit is a CPA,MBA and has been the CFO of several major domestic and international companies. Today Steve is an expert business consultant focused on helping companies improve their business performance including growing profits, revenues and customers. For a FREE 6 week mini course where you will receive 10 easy to implement action steps guaranteed to increase business revenue and profits by at least 30% in the next 90 days, please visit www.StevePohlit.com  All articles published by Steve unless specifically restricted may be freely published with this resource information.