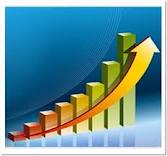 As soon as I post a headline like the one above along with this chart most people are thinking money.
Goal Achievement Is Not About The Money
If it is not about the money, then why is there so much focus on the money? Because income is the one objective statistic of results achievement. Everyone I work with tracks more than 5 statistics on a daily weekly basis intended on moving them toward their income goal. These statistics are measured and graphed. The graph tells us the condition of that statistic and we can then apply an action based on the condition. For example if the action is to communicate with relevant groups on social media sites like Facebook and LinkedIn a target is set for how often this will be done. The target is set along with all other action steps based on the persons time availability considering other goals.
What Other Goals?
Family
Health
Spirituality
Community
As an example at the start of the this year I renewed my commitment to achieving my ideal weight. A month into this year I really had not made much progress. Then I noticed a group formed to achieve healthy weight management and lifestyle goals. I joined. Now one month later I have made great progress to achieving my goal. It looks to me like I will hit my goal in 2-2.5 months. Like in business there are key statistics I am tracking and not just my weight. So the logic we use in business is applied to other goals that we define as being important. I coach people on related goals if they want that help along with achieving their business goals. Normally goals in the areas of health, family, spirituality become increasingly important topics when income goals are not being achieved.
Great Steve But What About You – How Are You Progressing Toward Achieving Your Goals?
This is a fair question as I should be a demonstration of my coaching process working. I already addressed the progress of one major goal. In the area of my own business performance, I have not been on track in January and February. Toward the beginning of February, I took action intended to move my results close to or ahead of plan. I am happy to say there has been significant progress in the past three weeks and I can see the statistics I track showing me I am moving in the right direction now. There is more to do. However the stats I track tell me actions needed.
The Secret Sauce
1. Why – your why statement for each goal is very important. My Why Statement was the first document I developed before starting on my plan to achieve my ideal weight. This was supported by like minded people. Being in the group I am in is very valuable. In business having a clear why and having a coach makes all the difference. I know you think I am just saying that because part of my business is being a coach. If that is your view nothing I write here is going to change that. I do suggest you take a poll of successful people and ask them if they have worked with a coach and did it help them.
2. Statistics – tracking and graphing stats is so important. The graph tells you what to do. This is at the foundation of my coaching and is the biggest advancement I have made in my career. I learned this in the Stats Seminar led by Meir Ezra
Now It Is Your Turn
If you are not on track – what are you going to do about it and when?
No Hype – No BS – Just The Facts
"I stand behind everything I present and say related to business. If I guarantee the results – I guarantee the results. What I write and say is totally authentic and accurate. If I discover something that was written or said is incomplete or inaccurate, you will hear the correction from me."
Steve Pohlit
"Results Guaranteed"
"Your Success Is My Business"
Three Business Services and Product Where The Results or Products Are Guaranteed
(click on each one for an exciting presentation)
Coaching and Consulting For Those Wanting To Jump Start Revenue and Profit Growth. New Entrepreneurs Accepted for Our Real Estate Investing Program
Organo Gold Healthy Coffee and Tea Products – Product Users Become Healthier, Business Builders Build Residual Income (The Product is Guaranteed not The Income)
US Turnkey Homes – Buyer's Money Earn Up To 20% Annually With Their Money Secured
Nothing Happens Until You Move!
For Coaching See My Front Page at StevePohlit.com
For Organo Gold and Turnkey Homes visit the links above
Questions ? – Be sure to visit the links first –Then you are welcome to
Email me 
Call Me 727-587-7871
Thank you,
Steve Pohlit, Managing Partner
Steve Pohlit International LLC