To Be Clear – Private Equity Funding Partner for Real Estate Wanted.
Distressed single family homes, distressed multi-family homes, buy fix and flips, buy and hold. 
Amount: Equity is normally 20-30% of the total amount funded. While we have approximately $5 million of deals in our pipeline, this could easily be much higher with the right private equity partner deal participation. 
Return: Most deals have a projected annualized ROI  of 40% or higher. Single family buy fix and flips are much higher. 
About: Very experienced real estate investor with an rapidly expanding network of great deals and team members to manage the process.
Contact: Steve Pohlit Email Ph 727-587-7871
A Real Estate  Equity Deal Partner Is Strategic For Our Business
The real estate investing  industry is vibrant and offers many  rewards for adding value.  We are very interested in attracting one source of equity funds for our real estate business.  Our business model is primarily investing in the niche of distressed real estate properties both residential and commercial multi-family. There are exceptions.  We are most interested in a real estate  equity deal partner that contributes to our profitable growth and helps us lower the transaction costs. Since we only recommend deals where we are confident with the profit, a positive deal doing mindset is important.
In a previous article I wrote that nearly every business has one barrier to massive profitable growth. (Click Here for the complete article.) For my firm it is equity funding for our real estate deals.  Working with our continually expanding network, we find really good deals in markets where we have teams that are skilled in managing the day to day requirements of a renovation and then our exit strategy.
Real Estate Investment Deal Structure
Most real estate transactions are a combination of debt and equity. When buying, renovating then reselling distressed properties, debt is short term or often referred to as bridge financing or hard money loans.  The cost of this debt is higher than more traditional bank financing.  Regardless of the source of debt financing, some level of equity is needed. The percentage varies by lender requirement.
Generally we are successful having lenders fund 75-85% of the total cost of the deal including the cost of debt interestingly enough.  For example one deal we are working on has all in costs including cost of money of $4 million. The lender will fund $3.0 million which leaves us to bring $1.0 million of equity.  For his deal we are projecting the equity partner will receive a 46% annualized rate of return on their money.  This percentage is often higher on smaller deals because the time line from start to finish is shorter. For example it is common for us to project annualized returns for equity funding partners greater than 80% for a single family fix and flip.
Our Deal Focus
We like deals where we are adding value to the property which in turns adds value for the final buyer or tenant. When we do this we improve the neighborhood and the community. We have an increased focus on using more alternative power in our projects and "green technology".
Equity Deal Funding Resource Targeted 
The volume and size of deals we are finding are growing.  Accordingly we are interested in a source of equity that will support our growth.  This means having access to at least $10 million liquid for an equity participation on a deal by deal basis over then next 4-6 months is strategic for us.
If this catches your attention I would love to talk with you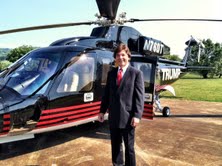 Steve Pohlit, Managing Partner
727-587-7871
Email