What Do You Want?
When asked , most people's answers include some variation of the following:
1. Good health
2. Financial freedom
3. Meaningful relationships
The definition of each of these is personal.  However, in order to achieve your definition of each and all of this top three list the intended outcome or goal needs to be clear. This article is mostly focused on the second item in the list – Achieving  Financial Freedom – This is A Solution
Most people know that residual income means money that comes to you on a recurring basis without you having to repeat an action.  For example, if you have money invested in a fund the yields a 4% return, the return is residual.  People who produce  songs, movies, books receive royalties which is residual. Those who build a successful team in a network marketing business earn a residual income.  If you own a business that has employees and is profitable, the earnings can be considered residual.
Residual income equals financial freedom  when the income exceeds the expenses of the lifestyle you desire.  For most people this can never be a reality because there has not been a practical, predictable way to achieve this – until now.
In the last month I learned of a company whose business model is totally focused on providing everyone regardless of how much or little money they have with the product and support for not only achieving financial freedom but also offering the resources for achieving improved health, fitness and relationships.  More on the health and relationship solutions in another article 
The Foundation of Financial Freedom
The Strongbrook Group.  has three pillars to their business model which are:
1.  Real Estate:  helping people develop their own single family home portfolio that are rented and produce positive monthly cash flow – residual income that achieves the individual's financial freedom definition.  This is a 100% do it for you model with your involvement being making the decisions. This model in the real estate industry is called labeled Turnkey .  Take a close look at how this can help you achieve your financial freedom goal.  Click Here
Gift For You: FREE Book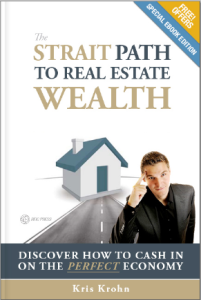 2. Entrepreneurship: in this pillar Strongbrook has developed a system for helping people currently not in a position to make a down payment on a turnkey residential property.  The name of this division is Strongbrook Direct  My view is that this is brilliant because there is now a way for anyone to create an income stream that is the foundation for buying your own properties.  Click Here to learn more about Strongbrook Direct.
Realtors Brokers Discover Added Benefits – Click Here 
3. Personal Development: the newest division of Strongbrook is Conscious Creator Mentoring Network.  All of us can benefit from mentors and we advance the fastest when specialists help us.  There is an exciting  business opportunity and a pay it forward model that are part of this exciting new division.  I will share more about this very soon.  For now, anyone who has achieved a measure of success has mentors and devotes meaningful time to personal development. All of us need to have and use a personal development program. Strongbrook is bringing together some of the best resources and mentors for us.
"I Am Responsible"
It should be clear that depending on the government,  a company, and in many cases the community for your health and well being  is at best a very risky strategy.  Independently secure in the areas of health, prosperity and relationships is a practical and achievable goal. Strongbrook is a very sound well established company and there is an extended team to help you as well.  
This is a brief introduction. I have included some links to help you learn more and I am available to answer your questions.  The next move is up to you.
Contact Information
Steve Pohlit
727-587-7871
Email