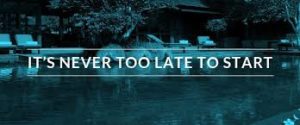 "It's never too late to start a business as long as you work long enough to understand the ins and outs of what you are about to do, know that you can do it, but you have to do it with research"  Dr Joyce Knudsen
Now is a great time to position yourself for the new year. I highly recommend working in a niche where there is huge demand for information and where people are spending a lot of money on products as well. The number one niche is health and wellness.
Next, I recommend selecting a company and product that is backed by amazing scientific research including double blind studies. Bonus: select a company where there seems to be a lot of competition but in reality there   is none.
You can begin quickly with the company and product line I highly recommend. You do not have to spend a huge amount of time learning the ins and outs as Dr Joyce suggests. The research is very easy to navigate so your due diligence time is minimal. As an example, when I was introduced to the company and main product, I began sharing information the very next day following my order being placed and I had my system in 5 business days after order placement. I have been on a roll since.
The company and bio electric magnetic energy regulation medical device I represent is incredible. All information shared is backed by science No competitor can compare to the results from what is does. No selling – this is an information share model. For more detailed information message me me or text.
Contact
Steve Pohlit
Independent Distributor
Direct 727-224-4743
Email stevepohlit@gmail.com